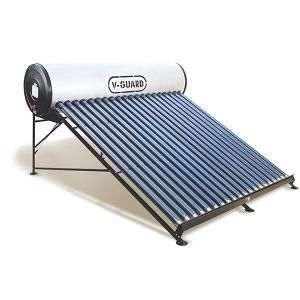 Ensure hot water for all seasons with V-Hot Series of Solar Water Heaters from V-Guard. This wide array of water heaters help cut down your electricity bills and are suitable for a broad range of applications - from homes, hotels to commercial applications. V-Guard V-Hot Series Solar Water Heaters come with an evacuated tube collector system that enables an optimal utilisation of solar energy. The PUF insulated stainless steel storage tank prevents heat loss. The V-Guard V-Hot Series Solar Water heaters dramatically reduce your electricity bills, help conserve energy and are environment friendly. These water heaters work on solar energy and are available in quite a few capacity options.Our natural resources are finite and that's why the use of non-conventional methods of heating water has begun. These are inexpensive, safe, reliable and are easy to maintain. More importantly, they are eco-friendly and provide trouble free service for years together. V-Guard as a brand is committed to enabling solar everywhere and bringing the power of the Sun to people in the most efficient and cost effective way possible. So cut down on your electricity bills and ensure hot water even when there is a power cut with the V-Guard's V-Hot Series of Solar Water Heaters.
Applications:
Homes, Schools, hotels, Canteens, Restaurants, Resorts, Apartments, Hosptials, Poultry farms, Textile mills & Drying units, Dairies & Industries.
Large Scale system, 300 LPD, 500 LPD, 1000 LPD, 2000 LPD, 3000 LPD, 4000 LPD, & 5000 LPD are available.
SALIENT FEATURES
Generates hot water without electricity or any other fuel
Huge saving on electricity
Storage tank is made of food Grade SS304L with Aluminium Stucco cladding. High quality PUF insulation minimizes the heat loss of water inside the tank
Efficient performance in winter and partially cloudy days
High quality vacuum tubes
Huge saving on electricity and fuel charges
Type of Thermal Insulation - Polyurethane Foam (PUF)
Absorber coating - AlN-SS-Cu coating
Inner tank Material- Stainless steel 304-L
Backup Heater Connector - 1¼
Available Capacities - 100, 125, 150, 200, 250, 300 LPD
Compact size, low height & lightweight
Fitted with Sacrificial Anode
Greater absorption area, auto sun tracking due to circular shape of vacuum tubes
ISI Electric backup heater (optional to the customer)
Advanced technology at competitive rate
Operating Pressure - Max .4 kg/cm2
Evacuated Glass Tube with absorber coating.
Outer shell Material- Aluminium Stucco Sheet
Input / output connections - 3/4
Stand Parts Material- Mild Steel with Black Powder Coating
TECHNICAL SPECIFICATIONS
| Capacity in Litres per day | Utility Points (max.) | Number of Persons using hot water | Number of Evacuated glass tubes | Inlet/Outlet pipe size of storage tank | Size of Evacuated tubes |
| --- | --- | --- | --- | --- | --- |
| 100 LPD | 2 | 2 to 3 | 10 | 1.9 cm (3/4") | 58 x 1800 mm |
| 125 LPD | 2 | 3 to 4 | 13 | - | 58 x 1800 mm |
| 150 LPD | 3 | 4 to 5 | 15 | - | 58 x 1800 mm |
| 200 LPD | 4 | 5 to 6 | 20 | - | 58 x 1800 mm |
| 250 LPD | 5 | 6 to 7 | 25 | - | 58 x 1800 mm |
| 300 LPD | 5 | 8 to 9 | 29 | 2.54 cm (1") | 58 x 1800 mm |